A Perfect Gift from Nature
Triad Fisheries philosophy is to catch a perfect "gift from nature" at the peak of its development and deliver it to customers in its purest form. Over 30 years ago, Bruce Gore revolutionized the wild Alaskan salmon fishery with development of his manually intensive Frozen-At-Sea program. The fish are caught using a slow hook-and-line method to minimize stress, processed immediately.... Click here to read the entire article.
Triad Unveils New Packaging
Triad Fisheries announces new packaging for their frozen Salmon.
Triad Earns Global Trust Certification
May 30th 2013 - Triad Fisheries has successfully passed FAO- Based Responsible Fisheries Management, Chain of Custody Standard Audit
Click here to view the certification letter.
Triad wins First Place in Symphony of Seafood
Triad takes first place in the Foodservice division of the Symphony of Seafood 2013.
Triad also won the People's Choice Award for its Sablefish "Unagi Style".
Read Intrafish article on Triad
Triad Celebrates 35 Years
Bothell, Washington — July 24th - Today, Triad Fisheries celebrated its 35th year as the industry leader in delivering exquisite, world-renowned seafood. The award-winning seafood company has earned much of this reputation through its featured Bruce Gore label of troll caught wild Alaskan salmon.
"35 years ago, our founder Bruce Gore pioneered a groundbreaking method for catching the highest quality salmon on the market," said Mark Tupper, president of Triad Fisheries. "It's the same process our elite group of dedicated fishermen throughout Southeast Alaska adhere to today."
Read the entire Press Release.
Halibut market shrink boosts little-known whitefish species
Lingcod exports from the United States have increased substantially in the past few years, rising from 7,021 kilos during the first nine months of last year to 40,192 kilos during the same time period this year, with the value rising right along with it to $100,303 (€78,265), according to the National Marine Fisheries Service. Although the overall value of lingcod exports may not come close to being able to compete with halibut, which made $38.6 million (€30.12 million) for US exporters during the same time period, it is certainly faring better. The US halibut export value declined 41 percent year-on-year during the first nine months of the year.
Mark Tupper, president of Triad Fisheries, is one of many buyers scaling back his purchasing of halibut in preference of different species, and for him, lingcod is it.
Read more...
Doing Business with a Handshake to Market Perfect Fish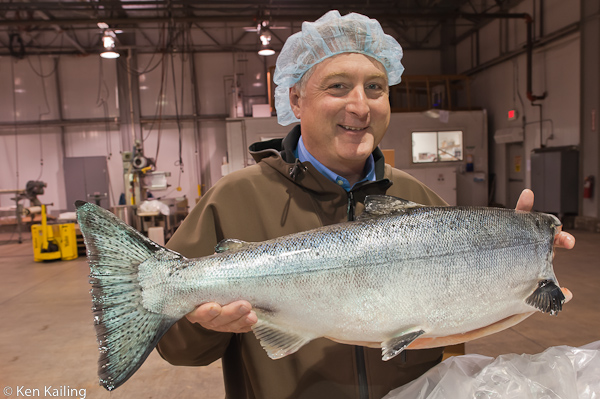 Mark Tupper, Triad Fisheries, does business the old-fashioned way: "I pay the fishermen as I sell the fish. Business is done with honor and with a handshake." The fishermen are independent agents that fish for a brand. While no money is exchanged up front, Tupper is responsible to get the best price possible for the catch.
Take a look inside Triad Fisheries processing plant here
Read the complete Goodfood World article about Triad Fisheries here
Jay Barrett of KMXT 100.1 FM interviews Triad President Mark Tupper
Triad Fisheries of Bothell, Washington; is the first company to be given ASMI's new sustainability seal of approval. The Alaska Seafood Marketing Institute awarded the "Alaska Seafood Responsible Fisheries Certification" earlier this month. Listen to entire interview here

Triad Wins 2nd Place at Symphony of Seafood
Triad takes second place in the Foodservice division of the Symphony of Seafood
with its Ivory King Salmon Sashimi
Read more...
Triad Fisheries featured in '425 Magazine'
August 2010
Triad Fisheries was featured in the July/August 2010 issue of the 425 Magazine. The article labeled "Caught up in Quality" went on to say the following:
"Triad Fisheries in Bothell believes in keeping fish fresh.The company supplies Bruce Gore wild Alaskan salmon that are frozen to at least negative 30 degrees within 90 minutes of being caught with a hook-and-line method, minimizing stress on the fish.
After freezing the salmon, fishermen hand-clip the fish in fresh water to create a protective glaze keeping the fish safe from dehydration. Bruce Gore is based out of Bothell can be ordered at Purple Cafe in Bellevue, Kirkland, and Woodinville.
To view the featured article, please click here
SeafoodSource.com Interviews Mark Tupper
Mark Tupper, from Triad Fisheries was interviewed by SeafoodSource.com to comment on the merits of Frozen vs. Fresh.
To read the articles, please click the following:
Triad Fisheries - Bloomberg Radio
"Keeping them calm is the key to great taste." Mark Tupper, president of Triad Fisheries in an interview on Bloomberg Radio
Saving Salmon: The Right Way to Fish
First Aired April 6, 2010

Mark Tupper is a special Guest at wherefoodiesgo.com
To listen to the entire interview, please click here
Triad Fisheries Radio Interview
In a radio interview, Mark Tupper from Triad Fisheries talks about Triad's Salmon.
Triad Fisheries Featured on FOX Business TV Network
Thursday, February 25, 2010.
Mark Tupper, from Triad Fisheries appeared as guest on FOX Business Network's America's Nightly Scoreboard program with David Asman.

The topic of the segment was on why the need for Alaskan Pacific Salmon has helped Mark's business.

To watch the entire clip, please click here
<<

Start

<

Prev

1

2 Next > End >>


Page 1 of 2